Virginia ABC Partners with MADD VA to Prevent Underage Drinking
The VA ABC Education and Prevention Division has partnered with us in our mission to prevent underage drinking in Virginia by adding Power of Parents Resources to their website.  MADD's Power of Parents program empowers parents of middle school and high school students to have ongoing, intentional conversations about the dangers and consequences of underage drinking.
Parents can listen to a Power of Parents presentation, download a pdf of the parent handbook, or order one online, all at no cost.
Research shows that people under 21 who drink are a danger to themselves, their friends and others. For more than 20 years, hundreds of high quality clinical studies in the United States and Europe have shown that the earlier in life young people drink, the more frequent and severe the problems they face in the short and long term. Learn more about underage drinking research at the MADD website.

Sterling Walk Like MADD a HUGE Success
At the posting of this newsletter, the Sterling WALK has surpassed its $17,000 goal by over $3,000 with additional silent auction contributions coming in! Congratulations to MADD Loudoun volunteer, Susan Cleveland, who coordinates this event each year with just a few committed volunteers. Donations will continue to be accepted until July 11 at the walk website. 
We join Ms. Cleveland in thanking all the volunteers, walkers, donors and sponsors for the most successful Sterling WALK ever.
Virginia Alcohol Related Crashes 2018
In VA in 2018 there were 7181 crashes, 4475 injuries, and 278 fatalities due to alcohol related crashes. 177 of the 278 fatalities were drinking drivers, a 15.7% increase over 2017. There were 19,790 convictions for DUI in VA in 2018. This info and more is available in the 2018 Crash Facts publication that is now available at the VA DMV website.
Calendar
Participate, Support us or Volunteer!!
5/11/19 Walk Like MADD- Sterling - Sterling Middle School
Shoe Collection Fundraiser in conjunction with both Walks!!
Want to put out a box at your church, gym, store, office, etc.???
In the Richmond area contact: jamie.jarrard@madd.org
In the Loudoun area contact: maddloudoun@aol.com
MADD Around VA
MADD VA is honored and thankful to have been selected as the recipient of the Charlottesville Dogwood Foundation 2019 Benefit Breakfast and silent auction. Loren Black, the outgoing 2018 Dogwood Queen, and her mom, MADD volunteer Lisa Black are pictured.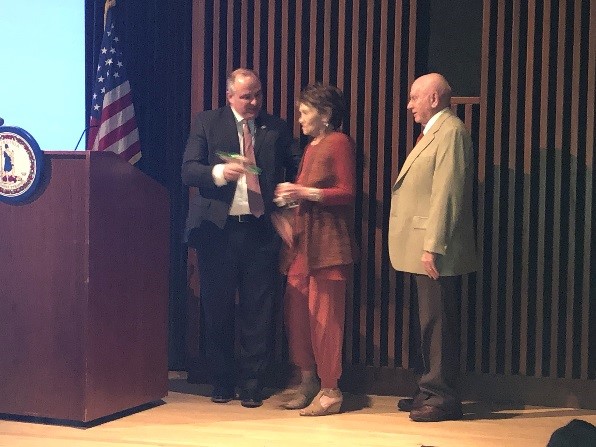 On April 11, recently retired volunteers Bob and Kaye Walsh were honored for their contributions in honor of National Victim Rights Weeks, by Colin Stolle, the Commonwealth Attorney of Virginia Beach.
See more of what MADD has been up to lately on our blog.
Impaired Driving Stories in the News
12/13/18 Rashard Thornton, 25, Henrico
4/21/19 Stewart Hogan, 60, Campbell County
4/26/19 Stephanie Rix, 29, Culpeper County
4/28/19 Morgan Munn, 20, King and Queen County
4/29/19 Eddie Meadows, II, 39, Roanoke County
5/7/19 Garry Thomas Bryant, 61, Spotsylvania County
Portsmouth Police Officer Found Not Guilty of DUI
Charlottesville Man Charged with DUI in Wrong Way Multi-car Crash