October 2019 e-newsletter
Take Action Virginia! Eliminate Drunk Driving in the United States
Support Congresswoman Dingell's H.R. 4354 to stop drunk driving
MADD needs your help to eliminate drunk driving. Legislation introduced by Congresswoman Debbie Dingell would push the Department of Transportation to require advanced alcohol detection technology as standard equipment in all new vehicles by 2024. Drunk driving is a 100 percent preventable crime that remains the deadliest threat on our nation's roads, claiming nearly 11,000 lives every year. H.R. 4354 could eliminate drunk driving by requiring new vehicles to use advanced alcohol detection technology. Contact your legislator here. Curious about how this advanced technology would work to eliminate drunk driving? Please check out this video on MADD's YouTube channel.

Congratulations to Virginia DMV Deputy Commissioner George Bishop and GHSA's Virginia member John Saunders, who were recognized recently by Virginia Governor Ralph Northam for their contributions to the Driven to Protect Initiative.
One Year Anniversary for Driven To Protect Partnership
In 2018, the Driver Alcohol Detection System for Safety Program (DADSS) and Virginia DMV joined James River Transportation in a partnership to help end drunk driving on America's roads. Technology integrators installed prototypes of a breath-based alcohol detection sensor into Ford Flex vehicles in James River Transportation's commercial fleet. With every new data point collected and every mile driven, the Driven to Protect partnership is bringing this advanced optional safety feature closer to availability in consumer vehicles in America.
Learn how the success of on-road testing in the past year improved and refined the DADSS Technology, making this contactless breath sensor even more accurate and precise, at DrivenToProtect.org.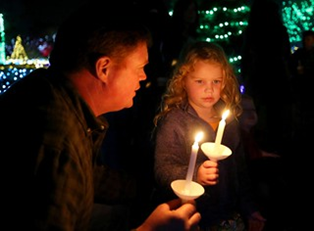 Calendar
11/18 - Richmond Candlelight Vigil of Hope and Remembrance – Lewis Ginter Botanical Gardens, Henrico, 7pm.
12/3 – Virginia Beach Candlelight Vigil of Hope and Remembrance – Founders Inn, Virginia Beach, 7pm.
12/5 – Tie One On For Safety Press Conference- 10am, Richmond Ford, 10751 W Broad St, Glen Allen, VA 23060
12/11 – Farmville Regional Law Enforcement Awards – Farmville Train Station, time TBA
MADD AROUND VA – October 2019