African American Alumni Affiliate
The UC Bicentennial is in Full Swing!
The University of Cincinnati has launched its yearlong Bicentennial celebration of excellence in education, research, and service to the community. Beginning with Charter Week festivities in January, your alma mater has hosted numerous experiences with three objectives in mind:
Honor the Past: Shine a spotlight on the history, spirit, voices and connections that have propelled UC to this historic milestone. And while we share a difficult past, especially as it relates to the African American experience, it is important to share those stories too, so we never forget how far we have come.
Elevate the Present: Empower our constituents, near and far, to celebrate and promote UC's legacy, impact and "best-is-yet-to-come" future. 
Bend the Future: It is our responsibility to ensure that every student who follows in our footsteps receives a world-class education at an inclusive learning environment.
The 2019 Onyx & Ruby Gala was attended by a record number of students, faculty and staff, alumni, and guests. Additionally, more than $13,000 was raised for the Shani Study Abroad Scholarship. CLICK HERE to view photos from this year's event.
Pillar of the Community Award Honoree
Emerging Leader
Award Honoree
Linda Bates Parker
Legend Award Honoree
Student Trailblazer
Award Honoree
Cheryll Dunn, EdD
'66, '68 '69, '77
Tower of Strength
Award Honoree
Georgia E. Beasley
Legacy Award Honoree
This video, produced by the University of Cincinnati Alumni Association, debuted at the 2019 Onyx & Ruby Gala, hosted by the UC African American Alumni Affiliate. As the university looks back on its 200 years of history, it also reflects on the experiences of its Black students and the enormous contributions of its Black alumni.
Verna Williams Named Dean of the College of Law
Thank you, Doc, for changing our lives!
Since 1972, P. Eric Abercrumbie has been a significant figure in the lives of Black students at the University of Cincinnati. Upon Doc's retirement, the university reflects on a 47-year career that changed a campus, but a life that changed countless lives. And for that, we salute his legacy of courage, strength, love, and Black excellence.
Alumni, Students Connect During AACRC Spring Break Tour
More than 60 alumni and students gathered for a mixer in Atlanta on March 22 during the annual African American Cultural & Resource Center (AACRC) Spring Break Tour. The AACRC Spring Break Tour affords students the opportunity to travel to significant landmarks in the South, as well as connecting with Black students at schools like the University of Memphis, University of Houston, and Jackson State University. A special thanks to N. John Bey (A&S '04) and his wife, the Honorable Ardra Bey, for opening their home.
Blackmond Awarded Marian A. Spencer Mosaic Award
Education reform champion Harrison Blackmond, Jr. (CAHS '70, '71) was awarded the 2019 Marian A. Spencer Mosaic Award at the Bicentennial Alumni Celebration on Thursday, April 3. The award, recently named in honor of civil rights icon and alumna Marian Spencer (A&S '42, Hon '06), is presented to an alumnus whose leadership enhances our shared community through cultivating collaboration, fostering inclusiveness, championing the cause of the underrepresented, and promoting equity and opportunity for all. Watch this video to learn more about Mr. Blackmond and his life's work.
African American Student Elected SGA President for Second Consecutive Year
Students at the University of Cincinnati have elected Chandler Rankin as their next Student Body President. Rankin, a third-year economics and political science major, ran unopposed with his running mate Abbie Smith. He will succeed Sinna Habteselassie, the first African American woman to be elected Student Body President. Their platform includes expanding mental health resources, enhancing minority advocacy, and establishing a fund to aid survivors of sexual assault.
Gerald Crosby and Kish Richardson were also elected at-large senators during the general student government elections.  
Alumni Spotlight - Kersha Deibel '09
During her time as a student, Kersha was an advocate for underrepresented students, especially women and people of color. She has taken her activism and spirit of service where she was recently named president and CEO of Planned Parenthood of Southwest Ohio. 
Student Spotlight - Joseph Parrish '20
Coming to Cincinnati from Baltimore, Joseph Parrish (CCM '20) planned to develop his vocal performance skills at one of the most prestigious conservatories in the country. But what the newly crowned Mr. Kuamka found was more more, including family and purpose.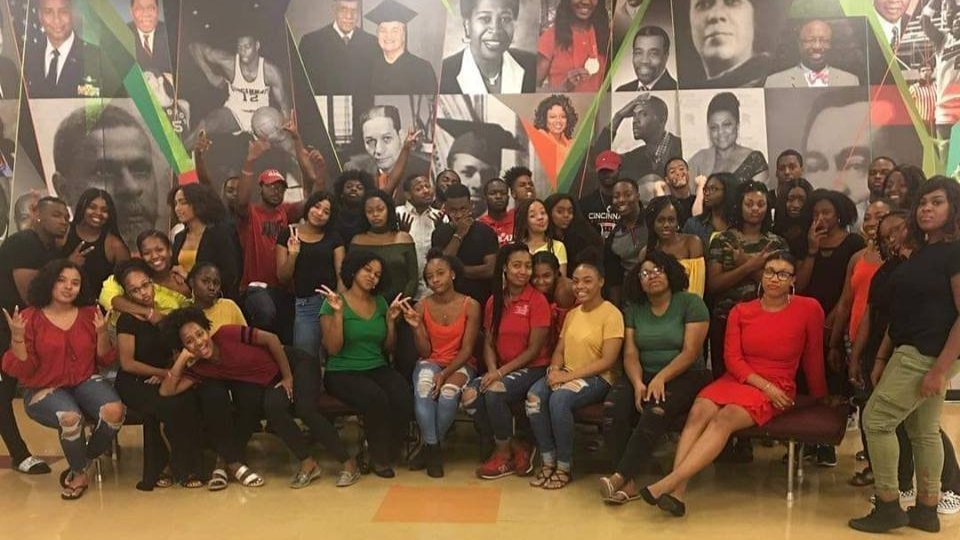 Tyehimba Graduation Celebraton 2019
Fifth Third Arena, 2 p.m.
Free and Open to the Public
General Body Meeting
UC Alumni Headquarters
SAVE THE DATE: Bearcats at the Ballpark
Reds vs. Chicago Cubs, Great American Ball Park
2019 Midwest Black Family Reunion
Sawyer Point
UC African American Alumni Affiliate Volunteer Leadership
Antwone Cameron '14, '15 - Chair
Karen M. Jackson '07, '10 - Vice Chair
C. Douglas Ealy '10 - Secretary
Christopher Allen '10 - Treasurer
Evangelina Figueroa '14 - Onyx & Ruby Gala Chair
Questions?
Email Justin Gibson,
Associate Director, Diversity Outreach and Engagement,
or call 513-556-4312.
University of Cincinnati Alumni Association
176 W. McMillan St. | Cincinnati, OH 45219
877-4-UC-ALUM | 513-556-4344 | alumni.uc.edu
© 2019 University of Cincinnati Alumni Association