Dear EPCHS Parents & Guardians:

The holidays are upon us and winter break is about to begin. School will dismiss for the break on Friday, December 20 and we will return to school on Monday, January 6.
We look forward to seeing our students again after break and working with them to reach their goals for this school year. As always, we will hit the ground running as we continue to help all students with their educational needs.
On behalf of the Board of Education, administration, teachers and staff, I hope you enjoy the season with your family and friends, and also find a little time for yourself to relax and unwind.
Sincerely,
Thomas O'Malley
Superintendent
EPCHS Secures Evergreen Racquet & Fitness Club
The Evergreen Park Community High School District 231 Board of Education recently approved the purchase of the Evergreen Racquet & Fitness Club, located at 2700 West 91st Street. The 94,000 square foot facility will be used as an indoor sports complex for EPCHS students including physical education classes, student athletes, marching band, and color guard. It will also be available for District 231 feeder programs, community members, and other outside groups.
District 231 purchased the facility for $1.5 million using existing capital funds, therefore, it will not have a negative impact on taxpayers. Administrators are currently working with ongoing programs already in place at the facility as they transition it to EPCHS programs. In the future, proposed upgrades will include a turf field and an indoor track.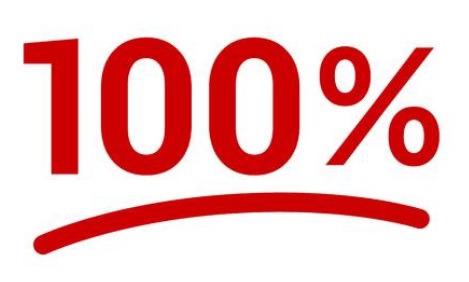 EPCHS Receives Perfect Score on Facility Inspection
The Annual Health/Life Safety inspection for Evergreen Park Community High School took place recently and, for the third year in a row, EPCHS has received a perfect score. To date we are still the only high school in the area that has received the perfect rating!
This required inspection is supervised by the South Cook Intermediate Service Center (SCISC). Inspectors walked the entire building and reviewed records and procedures pertaining to the safety of students and staff. SCISC inspectors commented on how well organized and clean the classrooms and building are kept. The maintenance and custodial staff are largely responsible for receiving this recognition due to the great job they do to maintain the building throughout the year.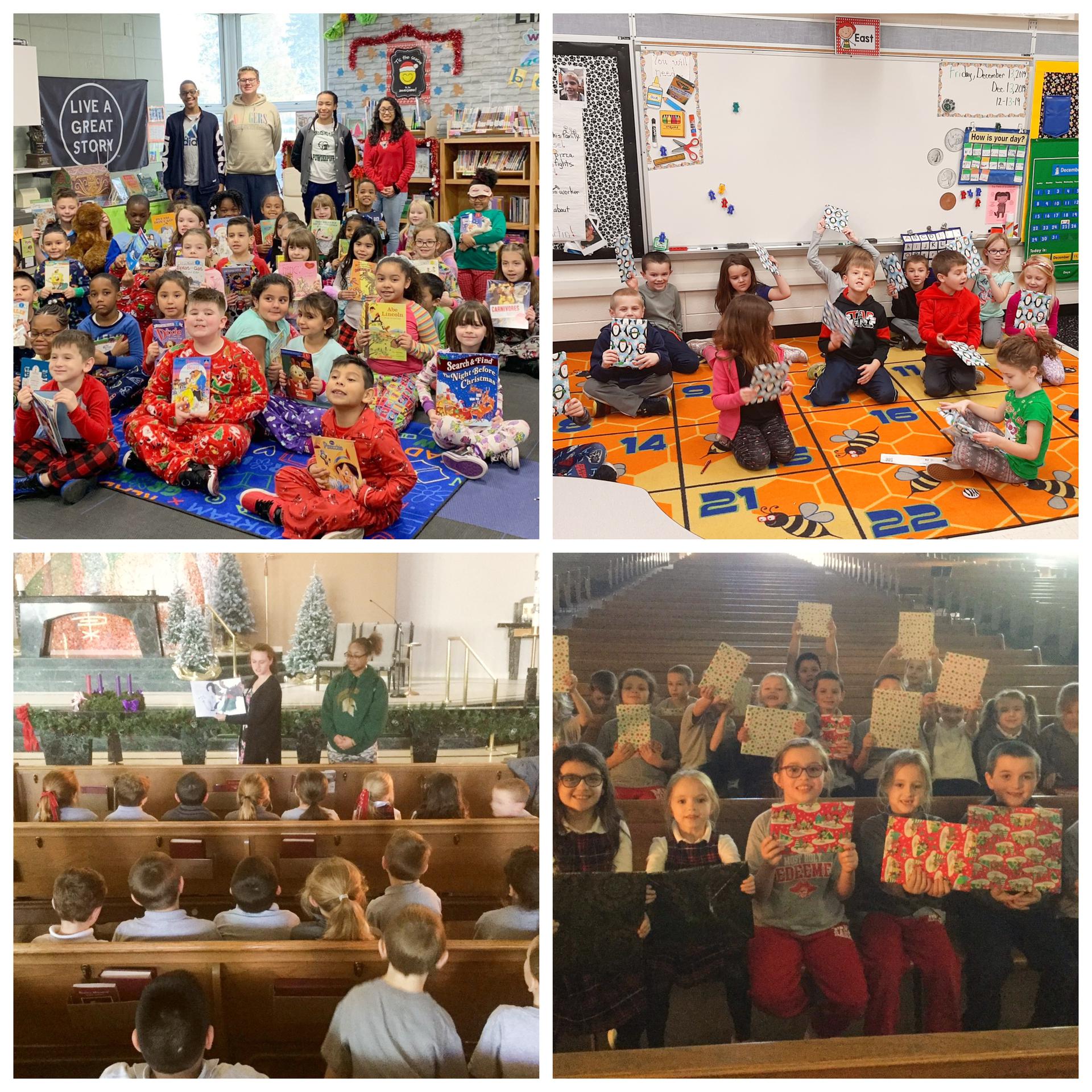 Service Club Gifts Books to D124 & MHR First Graders
The EPCHS Service Club Book Buddies recently traveled to all four District 124 elementary schools and Most Holy Redeemer School to deliver books to first graders. They handed out the books and read to the students too. The participating high school students were Julianna Black, Tiana Brown, Maylasia Lambert, Ruby Mendoza, Brooke Scanlon, Leah Thomas, Tristan Wagner and Quincy Whiteside. The 230+ books were donated by EPCHS students and staff, and the Evergreen Park Public Library.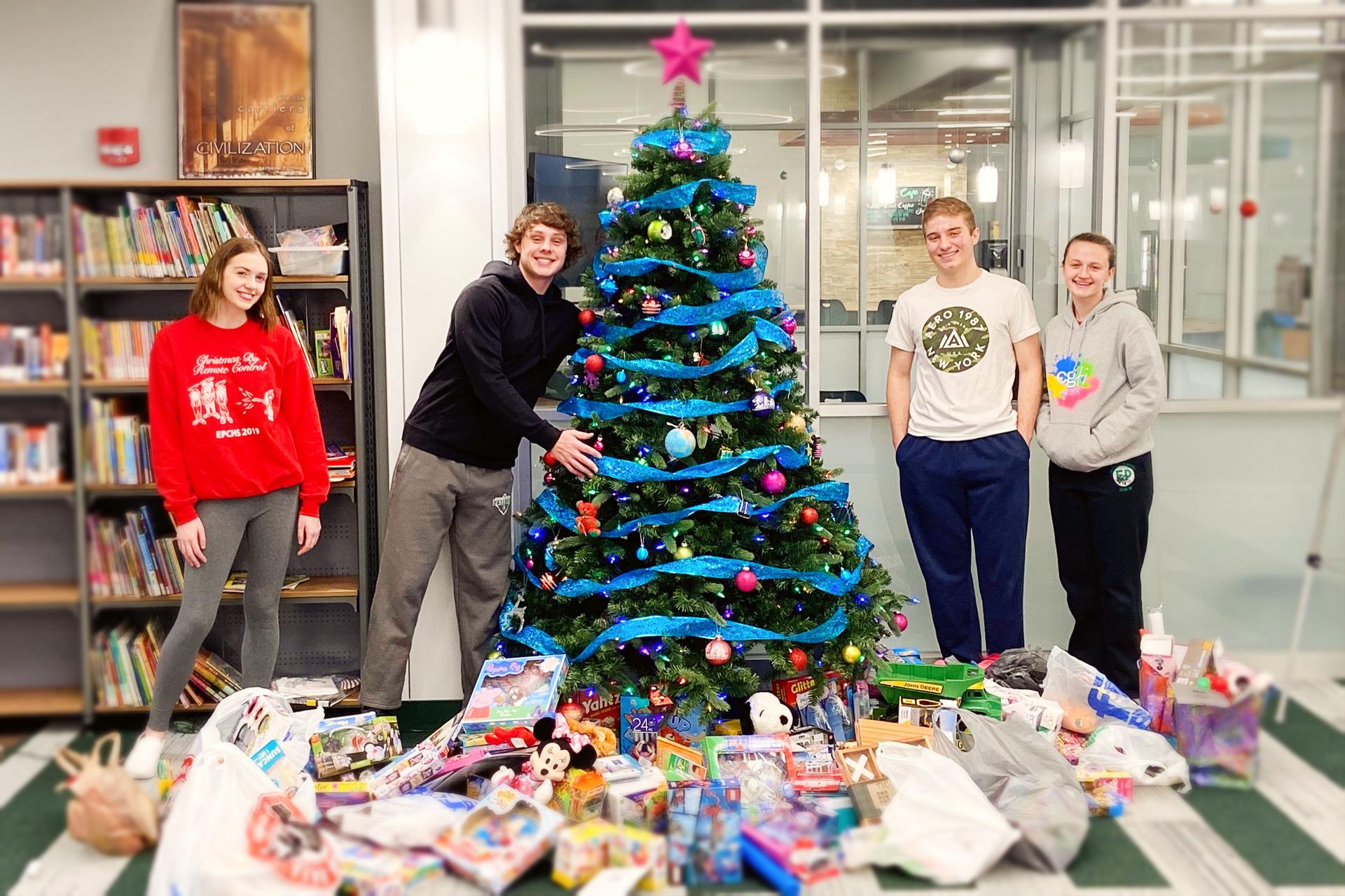 NHS Receives Several Hundred Toys for Tots
The EPCHS National Honor Society recently held its Annual Toys for Tots drive. With several hundred toys collected, this year's drive was the best one held at EPCHS in years! The toys will be distributed to needy families from Worth Township, including Evergreen Park.
The NHS held the Toys for Tots drive as a class competition as well as a raffle. Each student and staff member who donated a toy received a raffle ticket. The class that donated the most toys was Señora Shields' class. They will receive a free pizza party! The raffle prize recipients were Alexandra Clermont, Meghan Valentino, and Mr. Mikulskis.
The NHS would like to thank Dr. Ward and Mrs. Hewitt for hosting the drive in the LRC. They also wish to convey their sincerest gratitude to all the participants of this year's Toys for Tots Drive.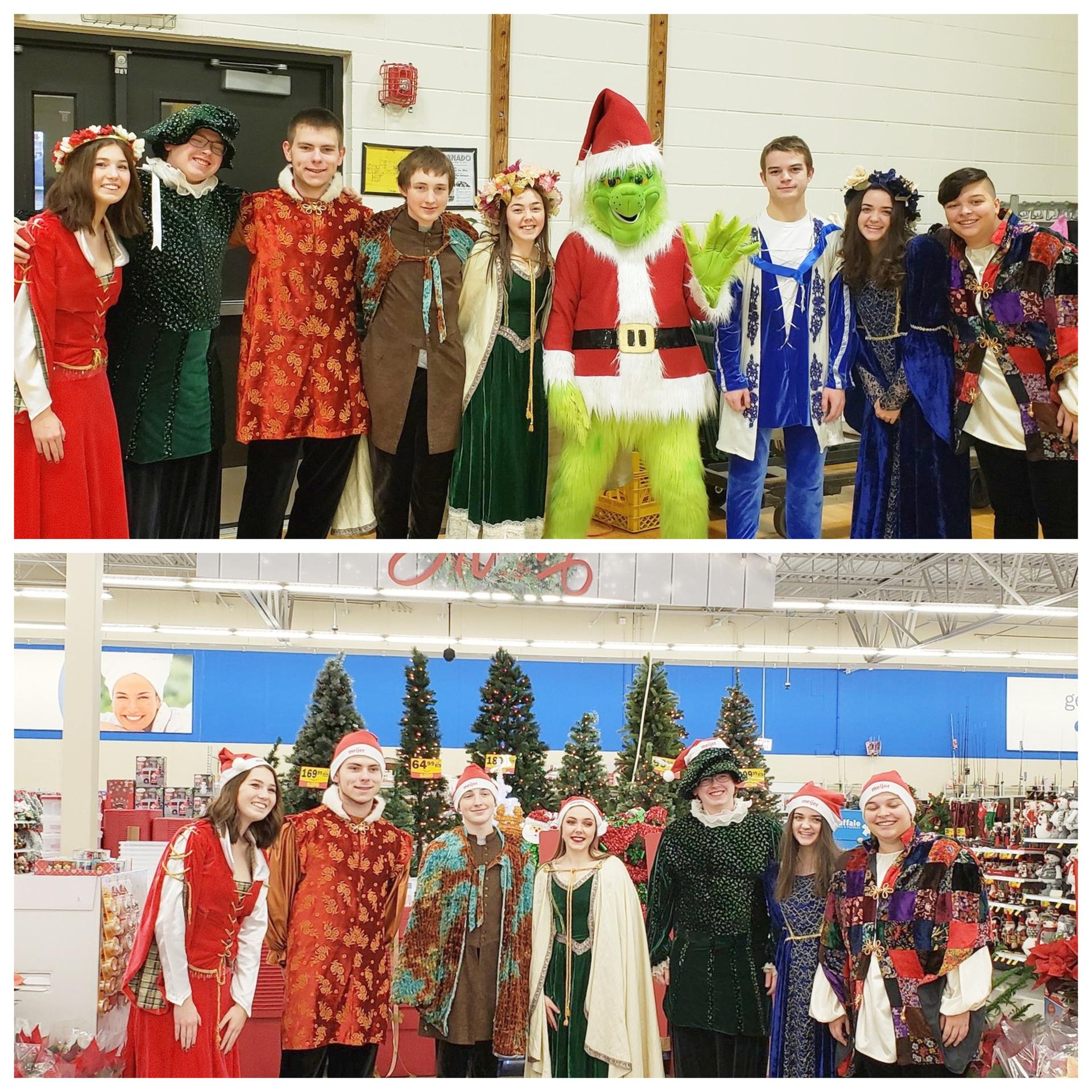 Madrigals Entertain Throughout December
December is a busy time for the EPCHS Madrigals because they are the primary provider of holiday music from EPCHS in the community. We are so proud of their talent and dedication to the Evergreen Park community.
Since December 3rd, they have participated in the Evergreen Park Library Art Show, Trinity Lutheran Church Senior Holiday Party, STARS Senior Luncheon, Caroling at Meijer, Evergreen Park Dickens Christmas, First United Methodist Church Coffee Hour, Bethel Bible Church Savvy Seniors Holiday Luncheon, Evergreen Park Chamber of Commerce Holiday Luncheon, District 124 Foundation Breakfast with Santa, EPCHS Winter Play, and the December 18 Winter Concert.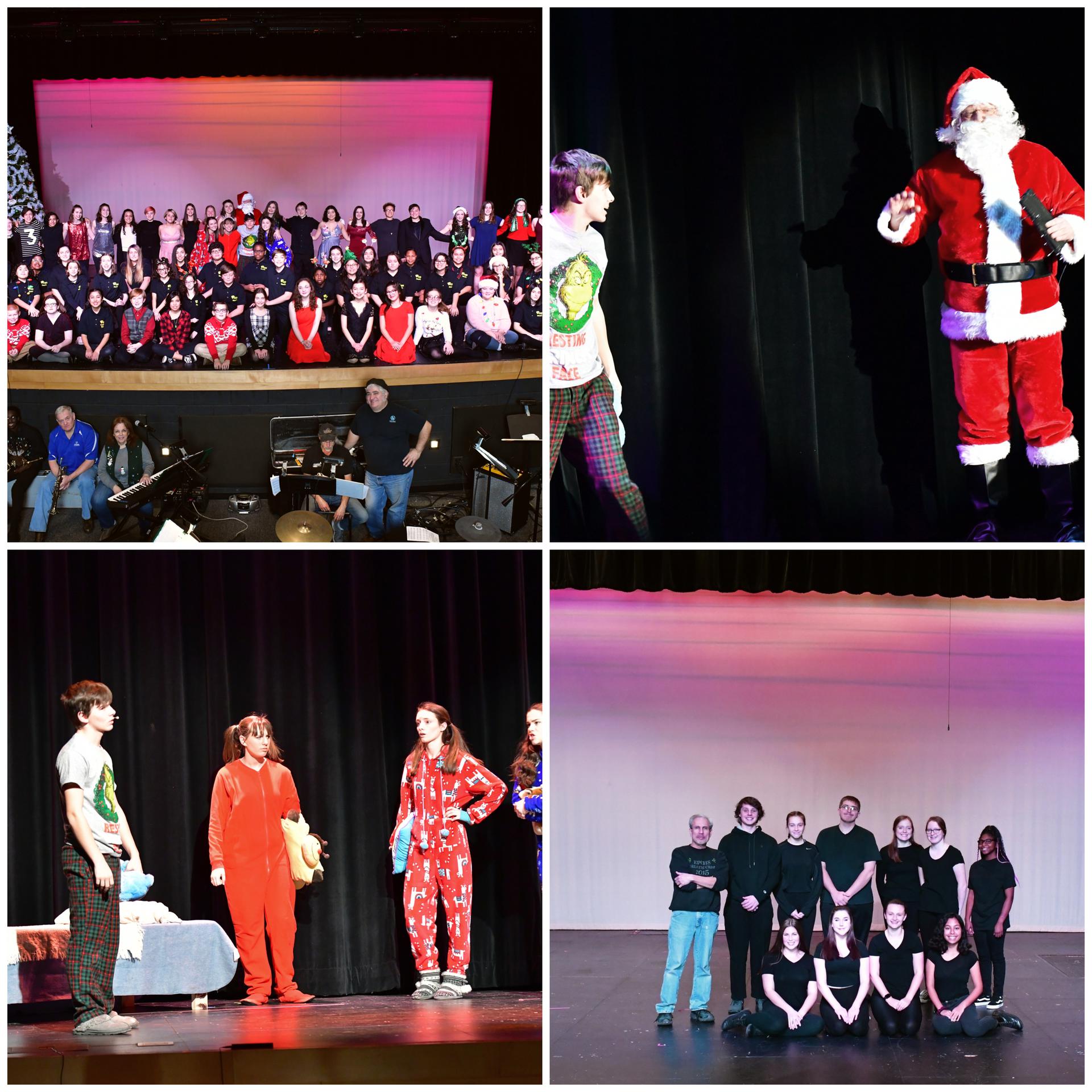 Winter Play a Holiday Success
Christmas by Remote Control, written by Ed Fudacz and Leanne Rae, was a huge holiday success. The audience watched young Eddie find his Christmas spirit with the help of Santa Claus and his magical remote control.
The presentation featured a cast of over 80 students from grades 4-12 as well as a very talented behind-the-scenes crew. This group of young people provided more than 30 songs to entertain the audience and put them in the Christmas Spirit.

A special sale for EPCHS students only
The 1st Annual Cinderella's Closet will take place on Saturday, January 11 from 10 am - 2 pm. The sale, which is for EPCHS students only, includes gently used dresses for prom, parties, graduation or school dances, as well as shoes and accessories.
Items will be priced at $10 for prom dresses, $5 for other dresses, $2 for shoes or purses, and $1 for accessories. Contact Mrs. Hewitt at (708) 398-1214 or khewitt@evergreenpark.org with questions.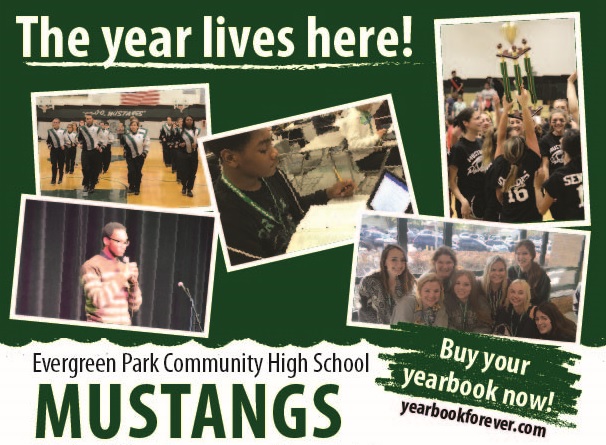 The deadline for yearbook orders is January 17. Your Mustang yearbook will provide a keepsake of 2019-20 individual photos, athletics, activities, and events.
By January 17, parents may also purchase a senior parent ad to include a message to your graduating student. To do so, contact Ms. Spezia at espezia@evergreenpark.org.
Below are some of our upcoming activities taking place in the next month. Please contact us at
(708) 424-7400 if you need additional information.
Winter Break, December 21 through January 5.
Cinderella's Closet, January 11 from 10 am - 2 pm
This resale event for EPCHS students only, includes gently used dresses for prom, parties, graduation or school dances, as well as shoes and accessories.
Parent Forum, January 15 at 7 pm
The topic is Cyber & Social Media Safety
Snowball Weekend, January 17-19
Martin Luther King, Jr. Day, January 20 - No School
Institute Day, January 27 - No School
Evergreen Park Community High School
9901 S. Kedzie Avenue
Evergreen Park, IL 60805
(708) 424-7400