Dear EPCHS Parents & Guardians:
As you can see below, there have been many exciting things going on in our school in the last month. With much pride, I have to say that these things are ongoing from month to month because our students are committed to their high school education and the opportunities provided for them at EPCHS. In addition, they know that they are supported by their families and our staff throughout their journey.
One of the most important times in a school is Parent-Teacher Conferences because they are opportunities to work together to meet your student's educational needs. These days are designed to offer one-on-one discussions with your student's teachers and help to determine where and what his or her strengths and weaknesses are in each class. It is also a time to offer possible strategies that will help your student improve.
Please remember to mark your calendar for the April 9 Parent-Teacher Conferences, which take place from 4:00 p.m. to 6:45 p.m. in both gyms and all teachers will be available with no appointments necessary. Counselors, social workers, and our school nurse will also be available. Your child's growth and development are our primary goals as we work together for his or her success.
Sincerely,
Thomas O'Malley
Superintendent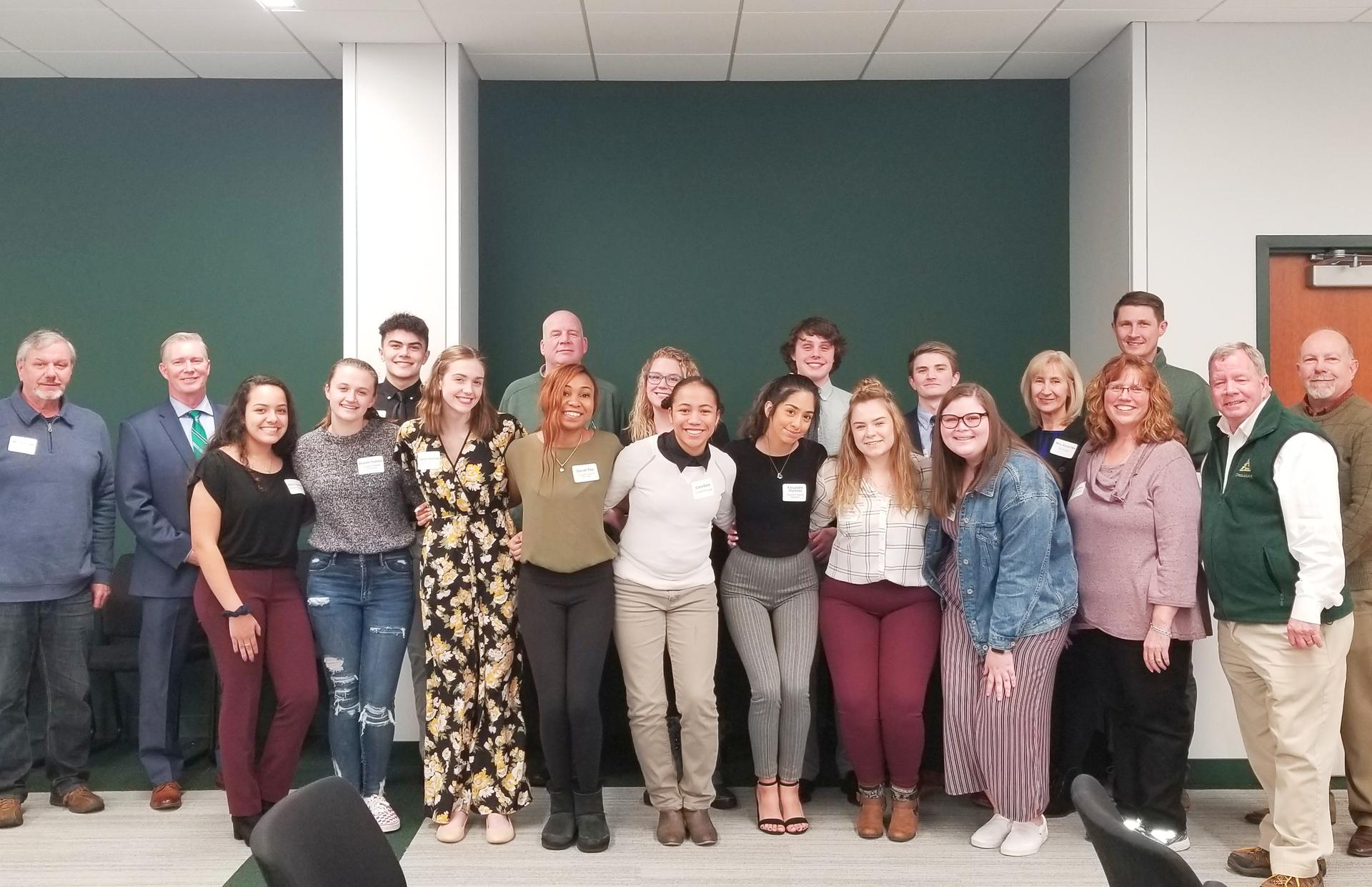 Students Take the Lead at February Board Meeting
At its business meeting on Tuesday, February 25, the Evergreen Park Community High School Board of Education held its annual Youth in Leadership Board Meeting. Prior to the meeting, students attended a workshop to learn the Board meeting process and determine their roles in the meeting. At the meeting, student participants acted out their roles as Board Members and Administrators by reviewing materials, making recommendations and voting on new business topics.
Students as Board Members included Brooke Scanlon as Board President Symanski, Alivia Aldape as Board Vice President Zofkie, CJ Kompare as Board Secretary Kutschke, and Andrew Corona, Dasiah Ray, and Kassandra Martinez as Board Members Brett, Marsan and McRae. Student as Administrators were Kevin O'Toole as Superintendent O'Malley, Ciara Black as Principal Sanderson, and Evelina Rudzinskas as Facility Director Donohoe. Ailyn Esquivel and Taylor Hoefler were Student Ambassadors for the evening.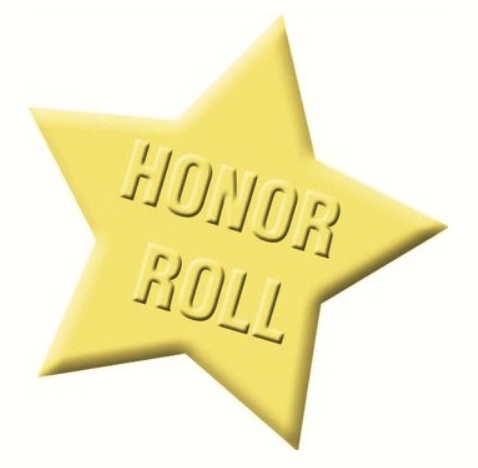 More than Half of Student Body Makes Honor Roll
EPCHS is pleased to report that 415 students, or 52% of the entire student body, achieved honor roll status for the first term of the 2019-20 school year. Students achieving a 3.0 to 3.749 grade point average are listed on the Honor Roll and students achieving a 3.75 or above are listed on the High Honor Roll. The following students have received this distinction:
Senior High Honors: Alivia Aldape, Jah'heir Alexander, Jayla Anthony, Ciara Black, Angela Bosch, Colin Brennan, Lilah Brown, Jaheim Burns, Andrew Corona, Shawn Davis, Bianca Dejesus, Katrina Del Rosario, Constanza DiBella, Sinead Doogan, Chasidee Dotson, Cameron Dunlap, Kallista Elwood, Ramyiah Faison, Cara Flaherty, Allianna Garcia, Myles Hines, Sarah Hughes, Kathleen Jacobson, Sean Johnson, Brian Kamson, Liam Kantzler, Nolan Kelleher, Myles Kerwin, Christopher Kompare, Dylan Kulovitz, Rodrigo Lopez, Florencia Luciano, Jack Manso, Morgan Markowicz, Kassandra Martinez, Vianey Martinez, Imani McAdams, Mary McDermott, Ruby Mendoza, Sarah Meyer, Matthew Miglieri, Jasmine Monroe, Ian Moran, Shioban Moran, Thomas Murphy, Riley Nolan, Kevin O'Toole, Jesutofunmi Oluwadiya, Joseph Ostry, Dasiah Ray, Andrea Rivera, Evelina Rudzinskas, Brooke Scanlon, Emily Serafin, Isabeau Shalack, Javell Sheppard, Travell Short, Shannon Sistrunk, Yulissa Tavarez Munoz, Christopher Viggiani, Annabel Viravec, Matthew Visser, Jacob Westphal and Rachel Witte. Senior Honors: Jada Bell, Samuel Bik, Madison Coleman, Michael Corona, Kevin Crivellone, Liam Duffy, Sean Duffy, Grace Dwyer, Leo Ellison, Christian Epps, Emma Evener, David Ewert, Jamie Flannigan, Jason Fontan, Chloe Hernandez, Damian Herrera, Mackenzie Hill, Courteney Hoover, Malcolm Horton, Colin Janes, Isaiah Jones, Delainey Kouba, Edwin Lopez, Breeze Martin, Emily McAuliff, Charles McFee, Mariah Mendoza, Shannon Miller, William Miller, Madison Moonan, Jack Novak, Eyan O'Connor, Ariel Ochoa, Edwin Opoku, Andrew Ortiz, Dalvonzo Owens, Meghan Russell, Brendan Ryan, Catherine Schaffrath, Michael Schulte, Julieanne Shannon, Shawn Sirevicius, Jake Sliter, Kyla Smith, Paulina Sosa, Dabney Tatum, IV, Emilio Torres-Vavouleas, Jason Van Schaik, Jr., Eli Veverka, Erin Villanova, Marquise Williams, Emily Zurella and William Zurella.
Junior High Honors: Macy Benson, Grace Beyer, Zachary Block, Jack Bresnahan, Nolan Bruce, Heidi Burke, Keegan Cassidy, Mya Cooper, Tatum Dancy, Kylie Doherty, Jennifer Escalera-Araujo, Ailyn Esquivel, Daniel Farritor, Joshua Gordon, Mycaila Gross, Taylor Hoefler, Kacey Hughes, Jacob Julian, Maylasia Lambert, Citlalli Marquez, Hope Michalek, Ernesto Mora, Juliet O'Connor, Nellie O'Grady, Hannah Ortell, Alyssa Purvis, Madeline Reynolds, Jake Rickert, Emily Ryan, Andres Salgado, Catherine Schulte, Emily Smith, Connor Tyrrell, Valerie Vojacek and Lori Wilson. Junior Honors: Nicolas Alvarez, Vanesa Arredondo, Andrea Beltran, Tiana Brown, Tyra Burks, Sean Campbell, Cristian Carvajal, Jamie Coffelt, Shannon Conners, Hunter Costello, Fatou Diallo, Daniel Flores, Elias Francisco, Natalie Gavin, Symara Goldman, Raquel Hannah, Mya Hill, Marion Isaac, Nicholas Jacobs, Jalen Jones, Shanice Jones, Erin Knight, Victor Leal-Painter, Fabian Llamas, Michael Malone, II, Dariyana McThay, Ximena Murillo, Pearl Opoku, Jayda Pedraza, Madison Pliska, Seamus Rabbitte, Oliver Richmeier, Kalvin Robles, Leilani Rodriguez, Yaselyn Rodriguez, Christian Rosso, Gisselle Saldana, Kimberly Silvestre-Ferrer, Grace Sisto, Kiara Smith, Emma Terri, Cameron Torres, Jessalyn Torres, Lela Washington and Toni Woodall.
Sophomore High Honors: John Bledsoe, Meghan Brannigan, Justin Brown-Passmore, Marissa Burke, Michael Cihocki, Alexandra Clermont, Kerrigan Collins, Caroline Duffy, Jacob Dwyer, Ryan Ewert, Mariana Ferreira, Julia Flannigan, Akirah Fort, Elaine Frederickson, Natalie Galindo, Nasir Gilmore, Adam Gradilla, Mya Granados, Thomas Gricus, Soriya Holloway, Nathan Johnson, Trinity Jones, Mary Kane, April Kirts, Tyler Kirts, Wyatt Lantz, Yuliana Lopez, Mary Marcosa, Isabella Martinez, Kelly McCarthy, Zachary Meyer, Joshua Miglieri, Molly Miller, Cassandra Mora, Samantha Nard, Denisa Neda, Cathleen Rech, Connor Rinearson, Madelyn Schaffrath, Thomas Schergen III, Connor Shomody, Madison Sims, Grace Serevicius, Leah Thomas, Annel Valencia Soto, Meghan Valentino, Adam Viravec, Tristan Wagner, Jakari Watson and Paul Westphal. Sophomore Honors: Molly Alexander, Daniel Amuimuia, David Amuimuia, Patrick Bautista, Dane Bik, Malik Brown, Gage Brustoski, Nathaniel Chacon, Alanna Curley, Taleah Dammons, Miguel DeArcos, Jr., Briyanna Diaz, Amarissa Dotson, Alexis Elwood, Michelle Esparza, Jessica Fiecko, Gabriela Flores, Jamari Galloway, Nathan Gonzalez, Riley Gore, Jorge Hernandez, Caleb Ireland, Richard Jacobson, Elizabeth Johnson, Myah Johnson, Taylor Jones, Mahari Kelly, Jr., Malik Kelly, Thomas Kerwin, Romere Lawrence-Ridgner, Ngoc Le, James Lenza, Patricia Lopez, Makayla Lumas, Emely Luna, McKenna Mason, Daniel McQuillan, Shannon Morrison, Desiree Murillo, Andrew Murphy, Grace Murphy, Da'Riana Nelson, Alonzo Newsome, Angelina Obregon, Cristina Ocampo, Mya Ortiz, Joseph Peirce, Siobhan Power, Danielle Powers, Connor Pula, Jessica Rojas, Santiago Sanchez, Kelly Scanlon, Kyan Scialabba, Lilyana Sepulveda, Jalen Shepherd, Raigen Sheppard, Samantha Spencer-Paredes, Brooke Steward, Kiera Swanigan, Diana Tracey, Devin Turner, Alexander Watts III and Dennis Wilson.
Freshman High Honors: Elliana Balderrama, Katherine Beyer, Sarah Beyer, Emma Bik, Julianna Black, Audrey Bobel, Mikaela Bolden, Karalyn Burke, Charley Burns, Leo Cassidy, Madison Chandler, Savannah Chandler, Vincent Colon, Kailen Curran, Lily Gagner, Ethan Garcia, Leah Grundy, Jamia Head, Kaitlyn Higgins, Austin Hohman, Helen Joyce, Aniya Martin, Madison Morgan, David Ortiz, Nicole Reynolds, Kiomari Rodriguez, Caitlin Salhany, Kennedy Shelby, Lillian Tushkowski, Noah Valdez, Ivanna Vidal and Carmela Woods. Freshman Honors: Jacob Aldape, Ashely Bastian, Christopher Bennett, Marlon Bonilla, Jack Byrnes, Trinity Carr, Nitzie Ceja, Dora Cihocki, Max Corona, Jack Donnelly, Olivia Doran, Katharine Downery-McGurk, Morgan Ellis, Cassandra Esparza, Brendan Farrell, Jr., Nathan Fernandez, Viviana Ferreira, Noah Flores, Jillian Foley, Quinaiya Fourte, Antonio Giron-Burton, Marco Gonzalez, Andrea Gramajo Hernandez, Jasmine Green, Laila Griffin, Sean Higgins, Cierra Holloway, Byron Johnson, Brayanna Jones, Teah Jones, Caleb Kulovitz, Asia Lane, Grace Leonard, Paul Lieske, Aaliyah Lopez, Vivianna Madrigal, Olivia Mankowski, Max Manso, Joseph Mays, Daniel McKendrick, Harold Measner, Ahmad Moore, Aidan Moore, Jacob Nardo, Khavoni Norris, Kameron Oden, Pal Patel, David Peralta, Nuala Rabbitte, Rosario Ramirez, Cheallaigh Reardon, Abigail Rech, Chloe Reed, Nolan Rinearson, Evelyn Rodriguez, Leland Rodriguez, Bryan Romero, Asael Rubalcava, Finley Sader, Cinthia Saldana, Luis Sanchez-Leon, Cayla Secor, Alyssa Sieloff, Gabrielle Smith, Kristen Smith, Jared Taylor, Nathan Theodossopoulos, Magdaline Tracy, Mateo Vela, Ayden Villareal, James Visser, Grace Ward, Johnathan Whiteside and Layla Williams.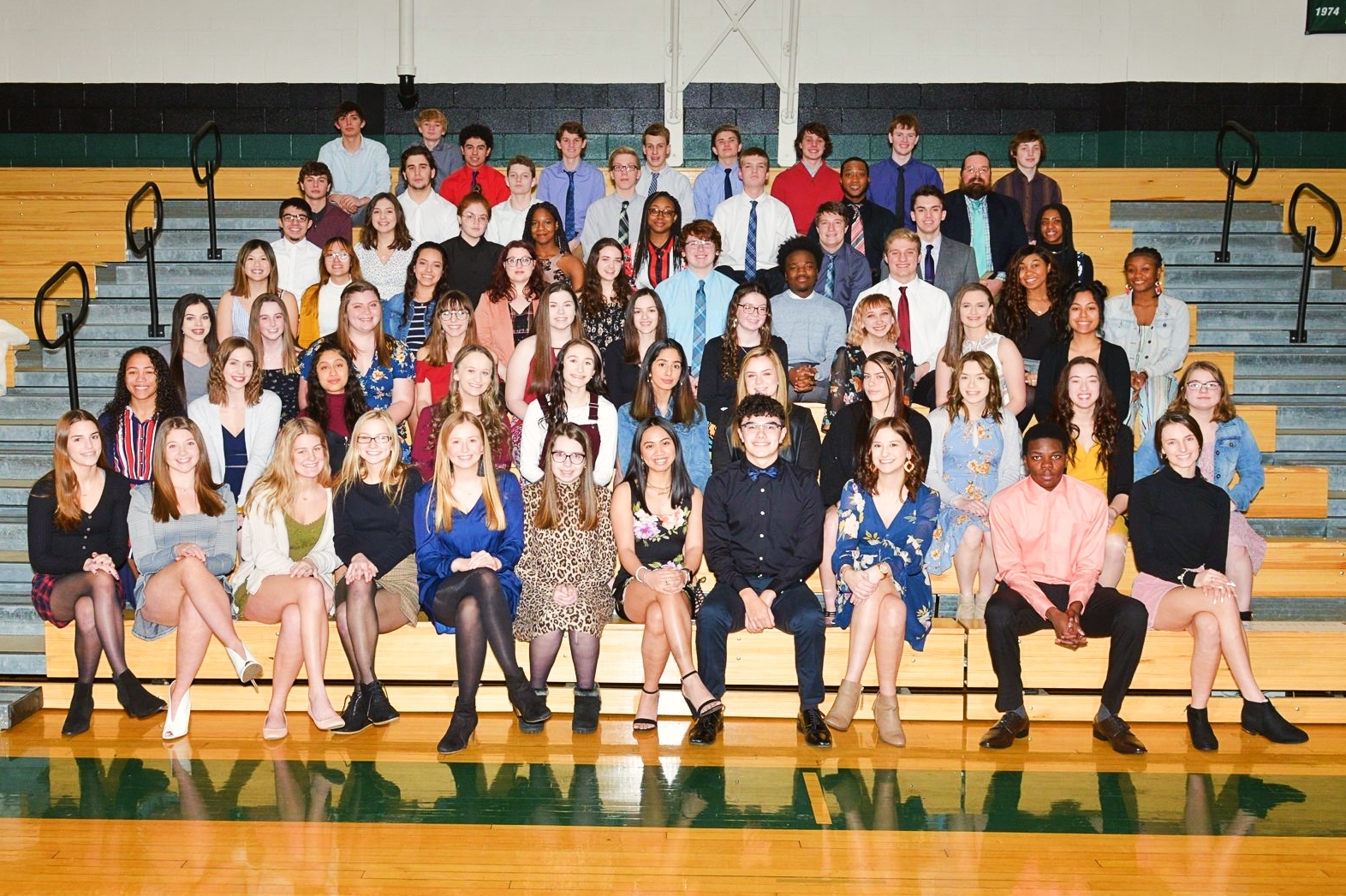 NHS Inducts 47 New Members
On Thursday, February 20, we recognized the accomplishments of the senior members and inducted 47 new members into the school's National Honor Society (NHS). This was by far the largest class of new members in recent memory. Inductees were Andrea Beltran, Macy Benson, Grace Beyer, Jack Bresnahan, Nolan Bruce, Heidi Burke, Cristian Carvajal, Keegan Cassidy, Mya Cooper, Andrew Corona, Tatum Dancy, Kylie Doherty, Cameron Dunlap, Ailyn Esquivel, Ramiyah Faison, Daniel Farritor, Cara Flaherty, Joshua Gordon, Myles Hines, Taylor Hoefler, Brian Kamson, Michael Klier, Ernie Knight, Maylasia Lambert, Jack Manso, Hope Michalek, Jasmine Monroe, Ernesto Mora, Ian Moran, Shioban Moran, Juliet O'Connor, Nellie O'Grady, Jesutofunmi Oluwadiya, Edwin Opoku, Hannah Ortell, Alyssa Purvis, Madeline Reynolds, Jake Rickert, Christian Rosso, Emily Ryan, Catherine Schaffrath, Catherine Schulte, Emily Smith, Kiara Smith, Jessalyn Torres, Connor Tyrrell, and Lori Wilson. Dr. Pamela Haney, the Vice President for Academic Affairs at Moraine Valley Community College, delivered a timely and well-received keynote address on the four tenets of NHS: Leadership, Character, Scholarship, and Service.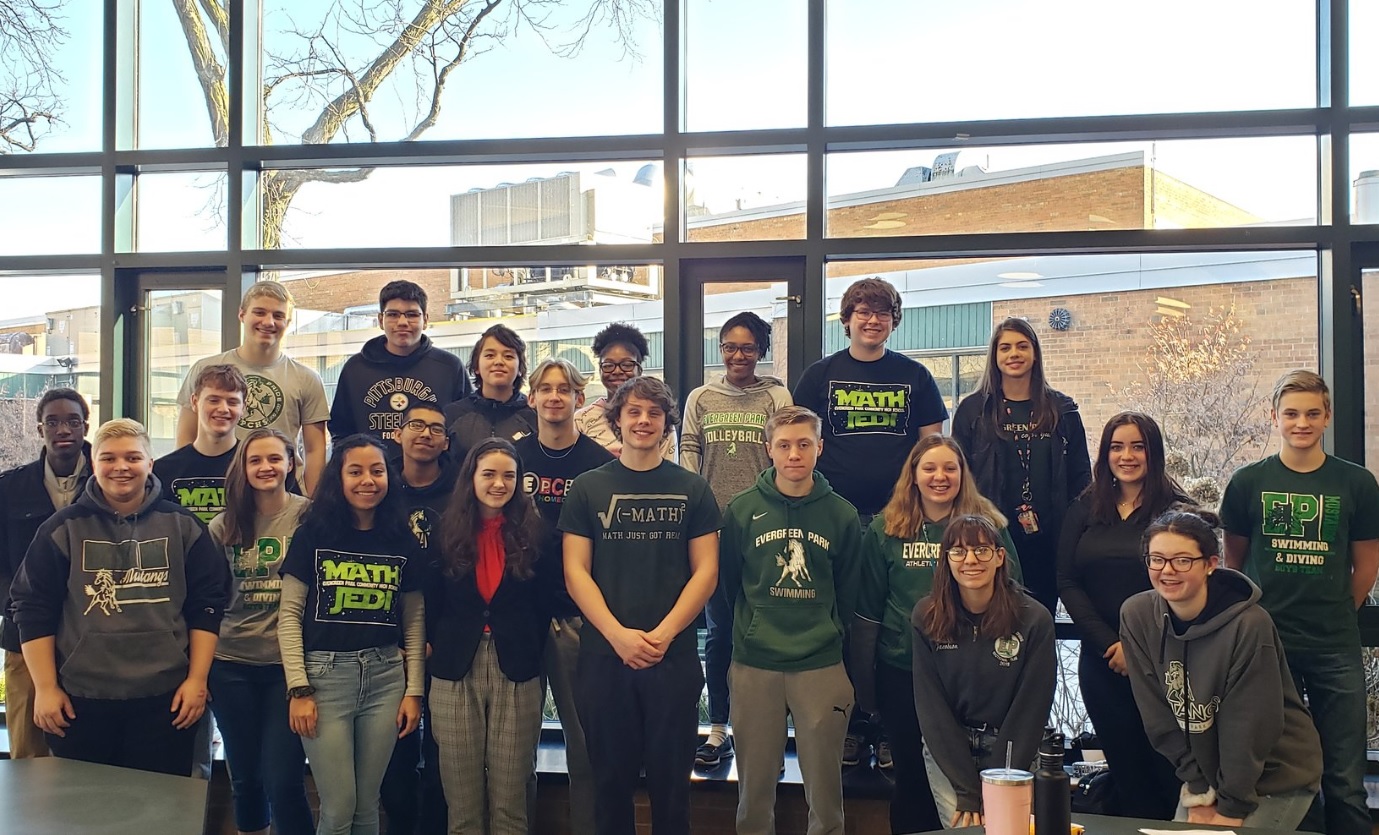 Mathletes Win Big at Regional Competition;
Heading to State
The EPCHS Mathletes competed at Regionals on February 22 and placed 2nd overall! Contributing to that 2nd Place finish was the freshman/sophomore two-person team of David Ortiz and John Bledsoe who placed 3rd; the freshman/sophomore eight-person team of David Ortiz, Noah Valdez, Jamia Head, John Bledsoe, Cristina Ocampo, Zach Meyer and Madelyn Schaffrath; the junior/senior eight-person team of Grace Beyer, Mani Onyango, Zach Meyer, Madelyn Schaffrath, Colin Brennan, Liam Duffy, Katie Jacobson and CJ Kompare; and Oralists Brooke Scanlon and Sinead Doogan who all placed 2nd.
The following Mathletes placed 1st at Regionals and have qualified for the State Contest to be held in May at the University of Illinois-Urbana Champaign. Individual qualifiers were freshman David Ortiz, sophomores John Bledsoe and Zach Meyer, junior Grace Beyer, and senior Colin Brennan. Team Qualifiers were the Calculator Team of freshman David Peralta, sophomore Travis Sirevicius, junior Grace Beyer, and seniors Angela Bosch and Matt Miglieri; the Precalculus Team of Angela Bosch, Colin Brennan, Sinead Doogan, Liam Duffy, CJ Kompare, and Sarah Meyer; and the two-person team of Colin Brennan and Liam Duffy.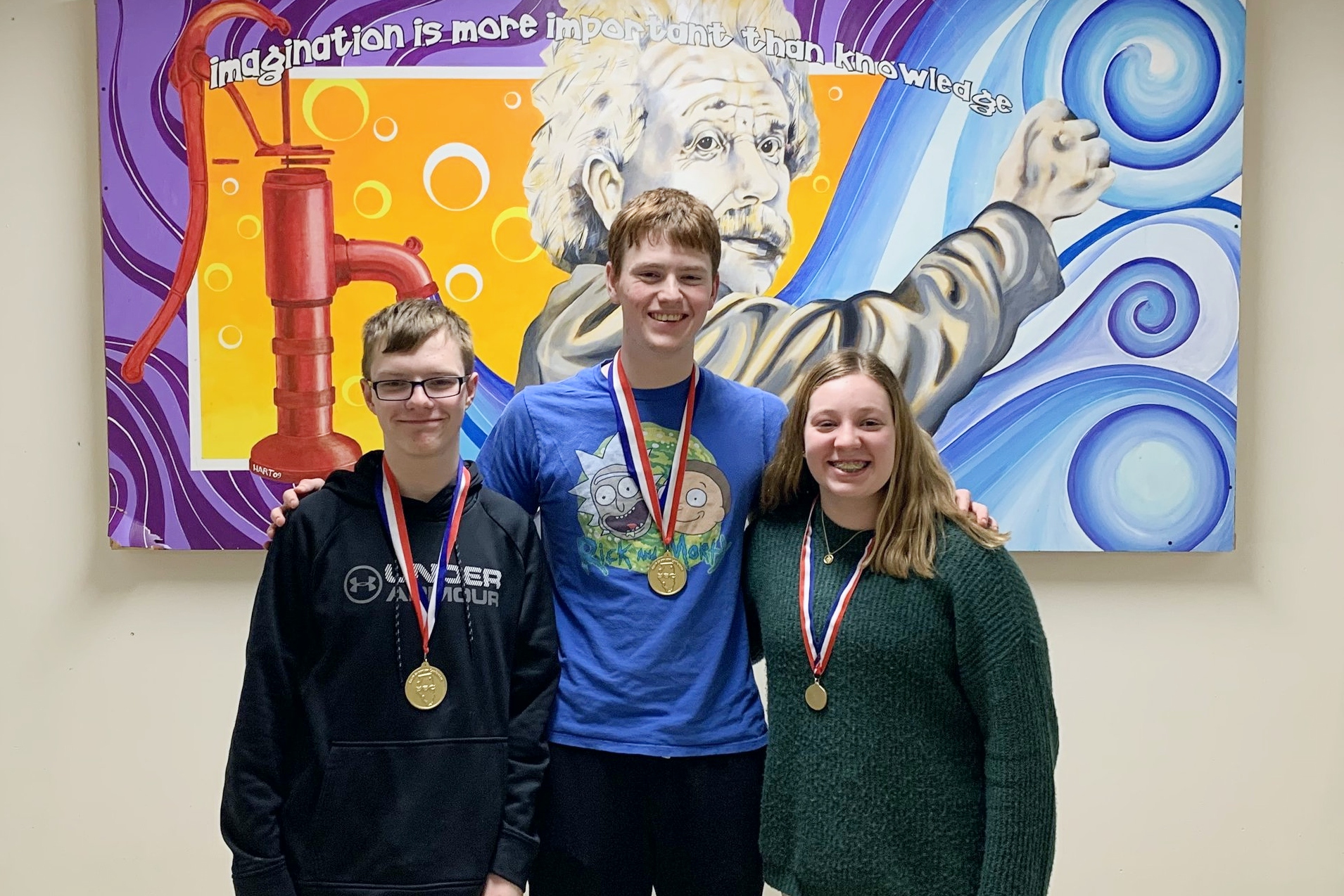 Three Students Make Top 10 in Scholastic Bowl
Congratulations to our Conference Scholastic Bowl medalists Micky Malone, Colin Brennan and Cate Rech. Our Scholastic Bowl students recently attended the SSC Red Conference Scholastic Bowl at Eisenhower High School. Micky, Colin and Cate answered a large number of toss-up questions during the regular season to achieve their medals. There are only 10 students chosen from each level (Fresh/Soph & Varsity), which means we had two of the Top 10 in Varsity, and one in the Top 10 in Frosh/Soph!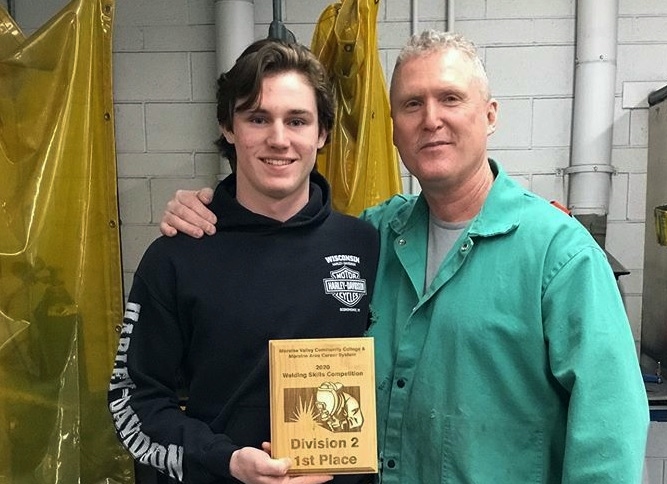 Dylan Kulovitz Takes 1st Place at Welding Competition
Congratulations to senior Dylan Kulovitz for a 1st Place win at the Moraine Valley Community College Welding Competition on February 14. Dylan competed against students from Stagg, Argo and Joliet West High Schools by welding a tee joint and lap joint with 6010 and 7018 welding rods. This is not the first win for Kulovitz. Two years ago he won 2nd Place at the MVCC Competition. Mr. O'Connor said, "Dylan is a very good welder who also has good all-around mechanical skills. I believe his goal is to join the Iron Workers Union, which would be a good fit for him." Dylan is currently working at an automotive garage.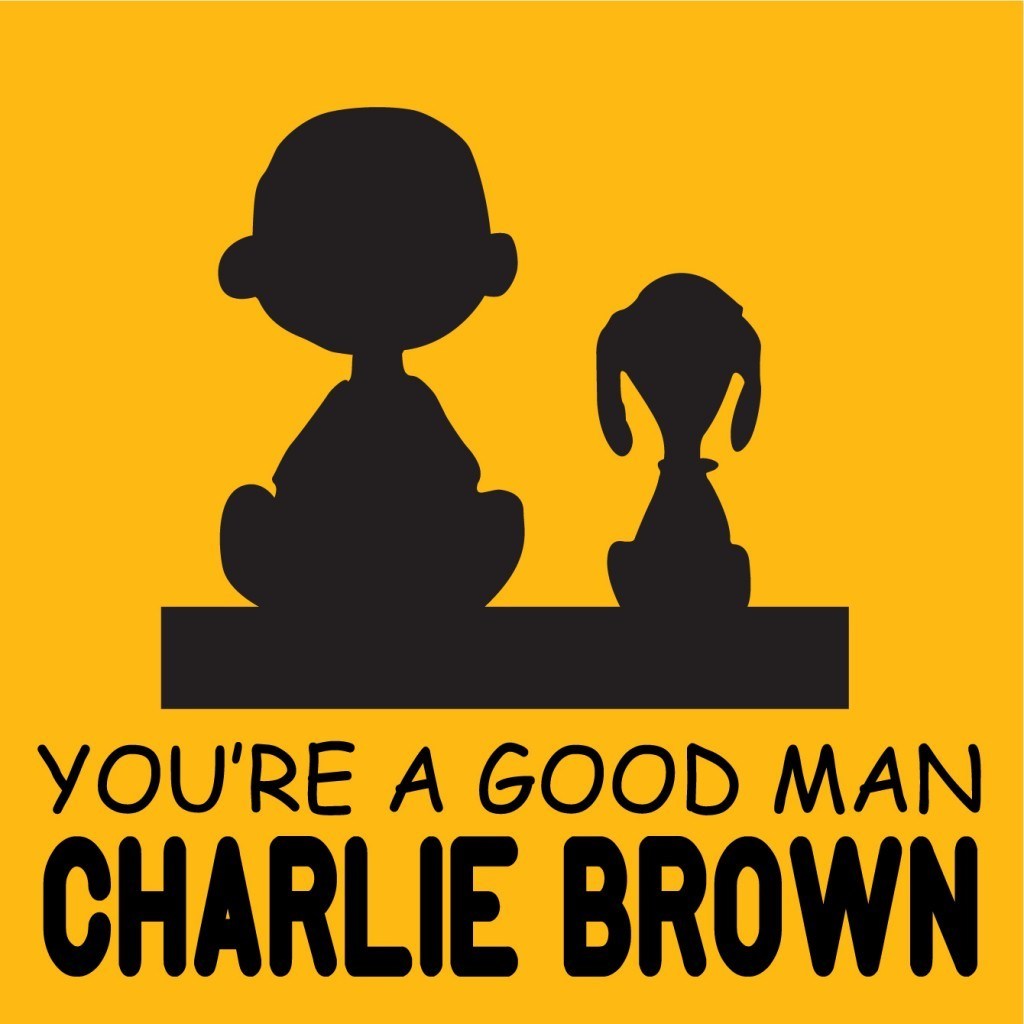 Fun for All at You're a Good Man Charlie Brown
Come celebrate the 70th anniversary of the Peanuts comic strip with us at our spring play, "You're A Good Man, Charlie Brown." The cast includes Isaiah Blalock as Charlie Brown, Sinead Doogan as Sally, Hope Michalek as Snoopy, Liam Duffy as Linus, Kallista Elwood as Lucy, and Cameron Dunlap as Schroeder.
Performances are March 13 and 14 at 7:00 p.m. Tickets are $6 for adults and $5 for students and senior citizens. It's sure to be great fun for the whole family! Order tickets below or call 708-398-1236.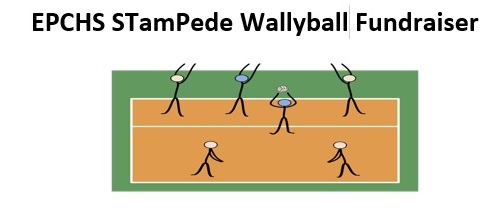 STamPede's Wallyball Fundraiser Takes Place March 20
The EPCHS STamPede will hold its Wallyball Fundraiser on March 20 at the EPCHS Sports Complex (formerly Evergreen Racquet & Fitness Club) at 7:00 pm. Team check-in is at 6:45. There are 5-6 people per team, men and women combined (21+/$125 per team). The Red Palm (3020 W. 95th Street) will host all teams after games are completed, 3 buckets of beverages included per team.
Register by March 16. Space is limited to the first 12 teams paid. Make checks payable to STamPede (Student, Teacher, and Parent boosters) and send to EPCHS, 9901 S. Kedzie Ave, Evergreen Park, IL 60805 - Attention, Carol McCormick. Please email Erin Doherty at erindoherty@sbcglobal.net with any questions.
Below are some of our upcoming activities taking place in the next month. Please contact us at
(708) 424-7400 if you need additional information.
Pulaski Day, March 2 - No School
Senior Citizen Dinner, March 13 at 5:30 p.m.
Evergreen Park senior citizens are invited to attend this special dinner followed by a showing of our spring musical, You're a Good Man, Charlie Brown, at 7:00 p.m.
Spring Musical, You're a Good Man, Charlie Brown, March 13 & 14 at 7:00 p.m.
Come celebrate the 70th anniversary of the Peanuts comic strip with us at our spring musical, "You're A Good Man, Charlie Brown." It's sure to be great fun for the whole family!
Parent Forum, College Information Night, March 18 at 7:00 p.m.
The Counseling Office will be hosting a College Information Night for parents of Junior students in the Auditorium. The presentation will cover: How to conduct an effective search for colleges, responsibilities in the college process, various types of college applications, undergraduate admissions procedures, timelines to follow from the end of Junior year through graduation, and much more. No RSVP is required to attend.
Talent Show, March 27 at 7:00 p.m.
This event is sponsored by the National Honor Society. It will feature 14 student acts and will take place in the Batho Auditorium. Money raised at the show will go to the Australian Red Cross for Animal/Wildfire Relief.
Parent-Teacher Conferences, April 9 from 4:00 p.m. - 6:45 p.m.
Please mark your calendar for this very important event.
Evergreen Park Community High School
9901 S. Kedzie Avenue
Evergreen Park, IL 60805
(708) 424-7400